Business Visioning
A Beloved Third-Generation Ann Arbor Business Writes a Vision of Greatness for Grand Reopening
---
Ask any Ann Arborite where to find a pair of shoes that are as comfortable as they are stylish, complete with a truly enjoyable shopping experience, and it's more-than-likely that you'll be guided to MAST Shoes.
MAST Shoes is a sit-and-fit shoe store on the West side of Ann Arbor that believes that good days start with great shoes. They're what many would call an institution around these parts–locals have been entrusting their feet to the third-generation, family-owned business since 1942. And it's not just locals' feet that are devotees. MAST Shoes is the go-to shoe destination for many out-of-towners, who regularly frequent Michigan football games at the Big House or are here to visit students at the University of Michigan.
They opened their doors 40 years before Zingerman's first did, and as a fellow Ann Arbor business (and neighbor to Zingerman's Roadhouse), we greatly admire MAST Shoes for being a long-standing, deeply-rooted and beloved part of our local community for 77 years!
At ZingTrain, we've been lucky enough to count Molly Mast Koss, co-owner of MAST Shoes (and granddaughter of MAST's founders – pictured on the left with her father, and co-owner, Greg Mast), and her team as dear friends (and clients!) for many years. In fact, Molly has been an active member of ZingTrain's original Executive Roundtable for over five years. In November 2018, after two years of hard work, MAST Shoes opened a brand new (and beautiful!) retail space, doubling the size of their store and giving it a fresh, updated look.
We had the chance to sit down and chat with Molly six months after the grand opening to hear about how things are going and how ZingTrain helped play a role in that process.
What makes shopping at MAST Shoes unique?
There are many things that make us unique. The three reasons our customers choose to shop with us are our carefully selected collection of shoes, the ability to try them on in person, and our expert fitting services. These things are at the heart of what we do everyday. We ensure that the shoes we select and sell are going to be beneficial to someone's feet and are designed with good structure, first and foremost. Every shoe we sell in our store is designed with foot health in mind. Someone can own the very best shoes in the world, but if they don't fit well, their feet will hurt! That's where our expertise comes in.
The buying experience is another differentiator. Our shoe-fitters are trained to have conversations with customers to better understand what's going on with their feet and recommend the type of shoes that will be most beneficial. Shoe shopping can be difficult, between navigating big box stores and the risky and time-consuming business of internet shopping. I read in an industry magazine recently that the return rate for online shoe purchases is between 40-60%! It's hard to get it right the first time on your own. That's why our goal is to make the shopping experience easy on our customers by having 10,000 pairs of shoes in-house to try on. And shoe-fitters who are fun to work with, who guide customers through the process and confidently say to them, "Yes, these shoes fit you very well" or "I think we can do better than this," and then present other size or style options.
What have been some of your biggest takeaways from the work MAST has done with ZingTrain over the years?
As I was reflecting on this question, I was certain my list would be close to 60-pages long, detailing the small changes we've made in addition to the large-scale ones. I've implemented many things in different areas of my business, from heeding marketing advice, creating HR practices and designing effective training for my team, to measuring results and giving constructive feedback. I would say, however, that what has made the biggest impact and brought the most value to my business is the visioning process and the way in which it helps with organizational change.
Tell us a little more about how visioning played a role in a very recent (and very big!) organizational change you made – the recent Grand Opening of your beautiful, expanded space!
We've used the visioning process that we learned from ZingTrain for many things over the past ten years, but the biggest application of it began a couple of years ago when we signed the lease on our new retail space (which is right next to our old space in Westgate Shopping Center, near Zingerman's Roadhouse).
We started the process by hosting a visioning session with the entire team, where we all worked together to write an organization-wide vision. We thought about what it would feel like to work in this new space – What would we want to have to make our workplace function better? To give a better experience for our customers? And then we asked the staff what they wanted – What did they want the new space to look and feel like? What problems would it solve?
Writing the organization-wide vision was a lot of fun. We took the time to dream a little about what the work and customer experience would be like, the new space's functionality, how good it would feel to be able to move about the store without bumping into each other, how the extra space for storing shoes and having everything under one roof would give our customers the best selection and afford our shoe-fitters the space to have the right tools to do their jobs well. We could easily communicate the look and feel of the space and all get excited about the new kitchen, lunchroom and workroom for washing our try-on socks and stretch shoes. While our customers don't see the impact that some of these improvements have, they make a huge difference in our team's working experience, day-in and day-out.
The new space feels very fresh, clean, and very "today," while still pulling in design elements from past store designs. We were able to communicate that feeling in vivid detail in our vision, two years before we moved into the space!
The build-out took a long time and the vision got us all on the same page about what was to come, aided in our internal communication and informed how we communicated with our customers about the move over the two years of construction. When customers heard clanging and banging from the construction next store, anyone on our team could say, "Oh, let me tell you about what's coming…!" and pick something from the vision we wrote to help our customers envision what was being built.
You even wrote a vision for the move itself. And the Grand Opening of the space, too?
Yes, we wrote visions for both! For the move, when we needed all hands on deck for a week of pretty intense moving, we envisioned everyone having fun, while not feeling overwhelmed in the process. We wrote that at the end of each day of the move we were tired, but were having a really good time and taking breaks to do yoga stretches on the (new!) carpet. The vision acknowledged that it was a lot of hard work but that having fun in the process was important!
And we wrote a vision for the Grand Opening, which happened on Black Friday in November 2018. It was so inspiring. And everything from the vision came true!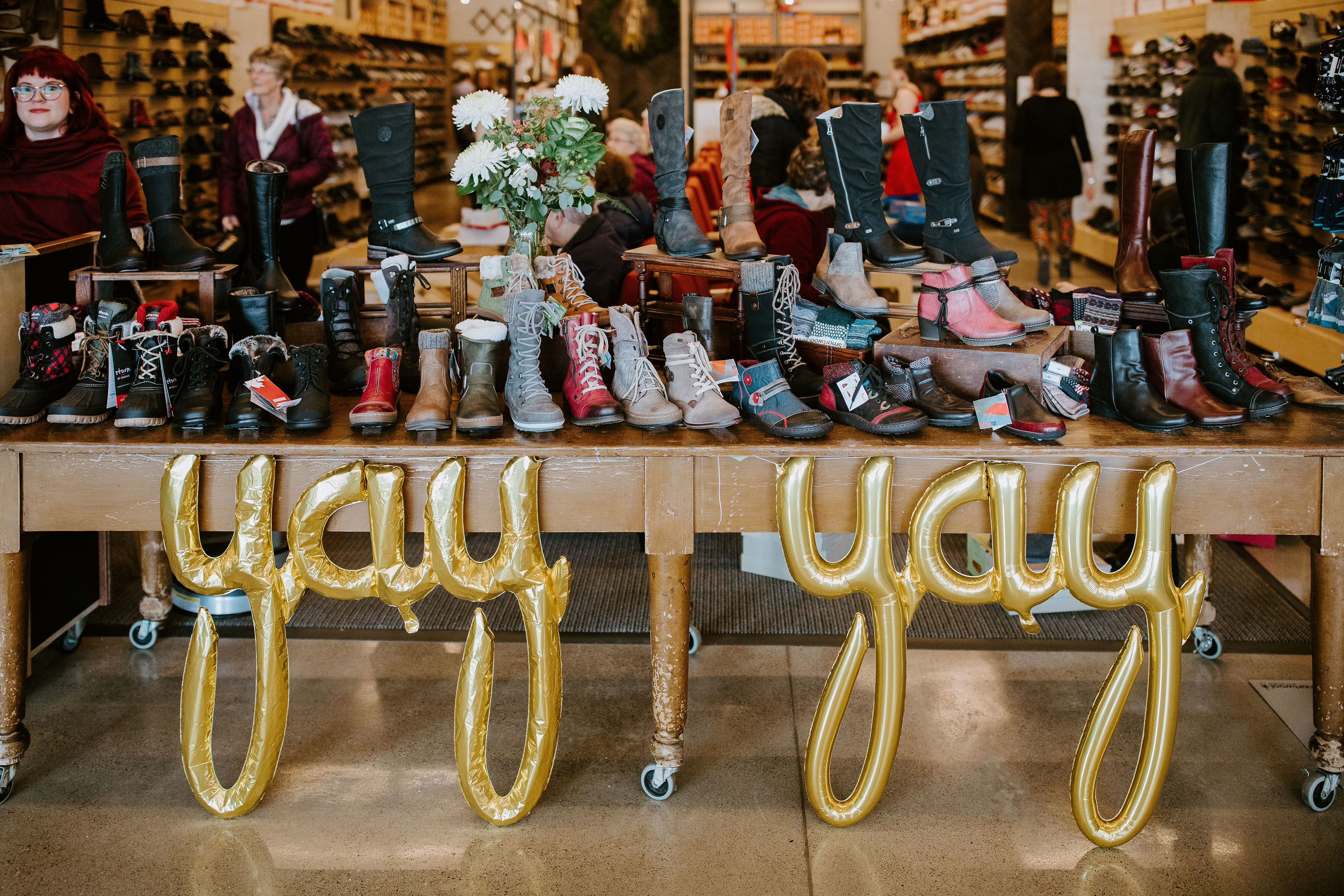 You're a member of ZingTrain's original Executive Roundtable, as well. What has that experience been like?
To use the words of one of my fellow Roundtable members, being a member of this Roundtable "is like having a board of directors for the whole self: work life, family life, and personal life." What unites us, of course, is that we each have a service-based business that aligns with many of the Zingerman's values. We all attended many seminars and found ourselves continuing to come back for more, which I think was what prompted Maggie (Bayless, ZingTrain's Founder, Managing Partner and leader of the Roundtable) to start the group in 2010.
We learn a lot from each other. We know each other's businesses, and each other, inside and out, so we're able to support one another in a way that's really hard to find elsewhere. We're deeply invested in each other's success, business and personal.
In your opinion, why should someone consider working with ZingTrain?
Many reasons! The biggest being if someone finds organizational change difficult or impossible, or they're coming up against roadblocks they can't seem to get past, they'll walk away with not only a "recipe" to lead any change, but the confidence necessary to do the hard work to make the change happen. I highly recommend signing up for a 2-Day seminar! To make their experience even more effective, they should consider bringing another person from their organization so they can learn and process the information together. You also can't go wrong working directly with the friendly, smart team at ZingTrain to customize a training for their business!
—–
Congratulations to our friends at MAST Shoes for 77 years in business! They have been, and continue to be, an inspiration to us.
If you find yourself in Ann Arbor and in need of some new footwear or a great customer experience, be sure to stop into MAST Shoes and see the beautiful space. The longer, sunnier days leave the light shining on the bright new retail space, full of a bevy of bright, colorful shoes. You'll be greeted by their Host, a position primarily found in the restaurant industry (an idea from Molly's fellow Roundtable members!), which will mark the start of your journey with a shoe-fitter into finding the best fitting shoes you'll ever own! Then walk across the parking lot to rest your feet and have a cappuccino or a bite to eat at Zingerman's Roadhouse!
*All photos courtesy of Abby Rose Photography.