Leadership Development
The 6 Characteristics of an Effective Servant Leader
---
Before we dive into what it means to be an effective Servant Leader, I want to tell you a story…
It was the summer of 1996 and I was in college at Vanderbilt, staying in Nashville over summer break to work out with my basketball teammates and take summer classes.
We had just had a great run in the NCAA tournament and made it to the Elite 8 my freshman year! Despite making it that far, looking back, there were some real communication misses I experienced from the upperclassmen during the pre-season. My fellow freshman classmates and I would show up to workouts at 6pm only to have the upperclassmen tell us, "You should have been here at 5:45." During another workout, we were instructed to meet at "the track" only to discover we were at the wrong track… We showed up at the track at the football stadium when the rest of the team was at the track at the Rec Center.
These experiences made a big impression on me and as I entered the next season (my sophomore year), my team and I were thrilled to be welcoming a talented group of incoming freshman to our team. The summer before our season was to start, I made it a point to call each of the incoming freshmen. I made sure they were doing their workouts, since having just been in their shoes myself, I knew the transition from high school to college was a big one. I warned them against bringing too much for their dorm rooms, since the rooms were so small. I checked to see if their parents had any questions. And once they arrived on campus, I called them to make sure they knew where to meet up for our first practice and asked of they needed a ride.
Ultimately, I wanted to be sure they had a better experience than my fellow freshman and I had had the season prior.
We attended our first team meeting in August 1996 and while going over the agenda, Coach (Jim) Foster said, "We will pick team captains today – one I've chosen and the other we'll vote on as a team. The one I've chosen called all of the freshmen over the summer, went out of her way to make them feel welcomed and prepared and demonstrated the type of leadership I'm looking for on this team."
I sunk down in my chair – I wasn't trying to demonstrate leadership on our team. I simply wanted to ensure the freshmen had a better experience than I did.
This story encapsulates the spirit of Servant Leadership.
Servant Leaders ask themselves, how can I be in best service to the organization and those I'm working with?
At Zingerman's, we teach Servant Leadership internally to our staff and to the public in our Leading with Zing seminar, workshops and on-site training. We've modified our approach to Servant Leadership from the teachings of Robert Greenleaf and his book, Servant Leadership.
Here are six characteristics of an effective servant leader:
They give great service to staff.
They manage in an ethical manner.
Servant Leaders provide a vision.

Think of the last time you opened a navigation app on your phone. The first thing you'll likely do is put in your end destination and hit Go.
But imagine if you didn't know your final destination when you opened up the navigation app. If you don't know where you're going, while you ultimately may go somewhere, it isn't necessarily where you want to end up.
For anyone in a leadership role, providing vision for your team or organization is a way to give the group the end destination. People want to be part of something greater than themselves and if you communicate exactly where it is you are headed, the group can (and will likely want to) help you get there!
Here are a few examples of when a vision can be particularly helpful as a leader:
You're rolling out a change. When making any change at Zingerman's, no matter how big or small, we draft a vision of what success will look like after it is rolled out. We call this Bottom-Line Change®. The Bottom-Line Change® process is really effective for communicating both how you, the leader, imagine the change will go, as well as giving you and the staff a chance to collectively create an action plan for how you'll work together to roll out the change. A few examples of changes where a vision is particularly helpful: price changes, a build out or renovation project, changing the day of a monthly team meeting and/or a new product launch.
You're entering a busy time. Before coming to ZingTrain, I was a retail manager at Zingerman's Bakehouse, and as is true in many of Zingerman's retail businesses, the holiday season (last six weeks of the year) see a dramatic increase in sales. In anticipation of this, in early November, I met with our staff to share the holiday specials, compare a normal day's sales to what we could expect to experience on the busiest days of the holiday season, discuss how order fulfillment would go, and work to paint a clear picture of what the team could expect. I remember one compliment I received from a new staff member at the end of one particularly busy holiday season, "That wasn't as bad as I thought it was going to be!"
You're making decisions for the future. Drafting a departmental or organization-wide vision lets staff know where the organization is headed and also implicitly shares where you are not going. For example, in the Zingerman's 2020 vision, it states that we will only have businesses in Ann Arbor, Michigan. As we get offers to franchise, we don't need to spend time thinking about if we should explore that opportunity if it is outside of the Ann Arbor area.
Servant Leaders give great service to staff.
Paul Saginaw, Zingerman's Co-Founder often says, "Staff will never provide better service to our customers than they receive."
Treating staff with the same high level of service that you do your customers is an integral part of being an effective Servant Leader. If we provide great support and service to our staff, that level of service flows through to our customers. At Zingerman's, we use the same 3 steps for great service with our staff that we use with our customers and teach in our Art of Giving Great Service seminar.
Here are some ways you as a Servant Leader can give great service staff every day:
Practice the 10-4 Rule. The 10-4 Rule states that when you're 10 feet away from a customer (or in this case, a staff member), you want to be sure to make eye contact and smile. And when you're within 4 feet, verbally greet them. This keeps leaders at attention and provides an opportunity for staff to ask questions, ask for help, etc. Try it out!
Honor schedule requests. If schedule requests (switching shifts, taking time off, etc.) are not honored consistently, this erodes trust and rapport with staff. And on the flip-side, when you honor schedule requests, nothing delights staff more!
Go the extra mile. Just like going the extra mile can thrill your customers, going the extra mile for staff can mean a lot, too. At ZingTrain, we make it a point to have someone's favorite cake for their birthday to share in our weekly huddle. Other examples of extra miles include sharing a recipe you know someone might like with their favorite ingredients or honoring an important day for a staff member, like if they've lost a loved one.
One important disclaimer when it comes to this step: giving great service to staff does not mean you do everything the staff asks of you. If a staff member asks for a raise at Zingerman's, we start the conversation by talking about taking on more responsibility and outlining the path for them to potentially make more money.
Giving great service to staff is balanced with giving the service and making decisions in the best interest of the business.

Servant Leaders manage in an ethical manner.
You might be saying to yourself, "Of course I should manage ethically." But what does managing ethically really look like? At Zingerman's, we like to think of it in very tactical ways, such as:
Do what you say you're going to do. If we don't keep our commitments to our staff, why would they keep their commitments with us?! If a staff member's review is due on the 15th of the month, complete it by the 15th or acknowledge that you will not meet that due date and let them know when you will have it completed. If the schedule for the following week is supposed to be posted by Monday by 2pm, post the schedule by Monday at 2pm.
Give staff experience with making decisions. Especially decisions that aren't black and white. There can be a misconception by anyone not in a leadership position that leaders have it easy when it comes to decision-making. It can often be the case that leaders are more practiced when it comes to making tough decisions. If you're a leader, be transparent with your managers when making a hard decision. Let's say a staff member was fired and returns a few years later saying that they've turned a corner and want to work with your organization again. Go to the management team and share your thoughts, concerns, and what you are grappling with. Listen to their insights and make a consultative decision together. The managers will not only learn how you think about things, but they'll also be clear on why and how a decision gets made, in this case, when it comes to that former staff member. In an old leadership model, one leader makes a decision, none of the management team knows why a decision gets made and they may or may not be bought into carrying out the decision.
Provide feedback – both positive and constructive. You may be wondering why providing feedback lives in the ethical management section. We believe that if someone is not meeting our job performance expectations, it is unethical if we do not let them know our expectations are not being met. Providing positive feedback is as important as providing critical feedback. This is behavior training 101 – praise the behaviors you want to see repeated.
Servant Leaders learn and teach.
Zingerman's Co-founders, Ari Weinzweig and Paul Saginaw, are both curious learners. They are voracious readers and when they started the business, they made the assumption that all managers at Zingerman's would want to continue to develop themselves the way they do. They learned that this wasn't a safe assumption and as an organization, we had to be clear about our expectations for managers regarding development.
Nowadays, we ask our managers to do two hours of formal learning a week by way of an article, book, podcast, webinar or learning in a classroom setting like one of our 2-day seminars.
A focus on learning means we are staying up on the latest trends and staying curious about our work and the different approaches we can take to our work. Additionally, a focus on learning acknowledges how a growth mindset helps, since we'll never have ALL of the answers and we can always be learning and growing!
We also ask each of our managers to do at least one hour of teaching a month. It's our belief that by teaching, managers are achieving the highest level of learning, since you need to learn the content inside and out before you can teach it to others. Think about attempting to teach a child how to tie their shoes – by doing so, you learn that task all over again and break the teaching down into pieces that they'll understand. Similarly, when managers teach other staff members, they in turn become even more skilled at their respective roles. Managers can teach others about their product knowledge, things they've learned at a conference, or even an article that they found especially thought-provoking.
Servant Leaders help staff succeed.
It's our belief that staff want to do a good job. Therefore, it's our job as an organization to help provide staff the training and resources they need in order to effectively do a good job. If we document clear performance expectations, staff are much more likely to meet those expectations. In our Bottom-Line Training® Trainer's Toolkit, ZingTrain's Founding Partner, Maggie Bayless, outlines how we approach helping staff succeed through creation of very functional and easy-to-implement training.
Additionally, we want to make sure we're doing everything we can to help our staff succeed, including checking in on our beliefs about our staff. It is easy to think that a staff member 'just isn't working out' before we ever check in with ourselves and our support of our staff. Ari Weinzweig investigates the power of our beliefs in business in his book by the same name. Here is one of my favorite quotes from J Atlee, a long-time manager from Zingerman's Mail Order:
"I recently started training two new people for a floor supervisor position. Both were current employees. I found that I was excited about training the one, while I was having trouble buying into the other's success in the new position. I realized, through the training I'd been through, that if I weren't bought into her success, I would be an obstacle to her succeeding. So I proceeded to realign myself, by acting as if I were bought in, like I believed in her. Even before starting the formal training, I started sharing tips and techniques with her for the new position. I also became uber-conscious of how I carried myself around and towards her. By two weeks in, when we formally started training, I was completely excited to be working with her and completely convinced of the oncoming star I'd be working with. And she ended up doing really well!"
Servant Leaders say "Thanks!"
Out of the six elements of being an effective Servant Leader, this can be the easiest to overlook. Some pushback we receive when teaching these elements in our Leading with Zing! seminar is, "Our staff receive a paycheck, isn't that thanks enough?!?" As we discussed earlier in this blog post, behavior training is critical – reinforce the behaviors you want to see repeated. At Zingerman's, our formula is to target four parts positive feedback to one part critical feedback. We try to stay conscious of our 'emotional piggy bank' and we want to be sure our staff have a positive balance before we need to make a critical 'withdrawal.'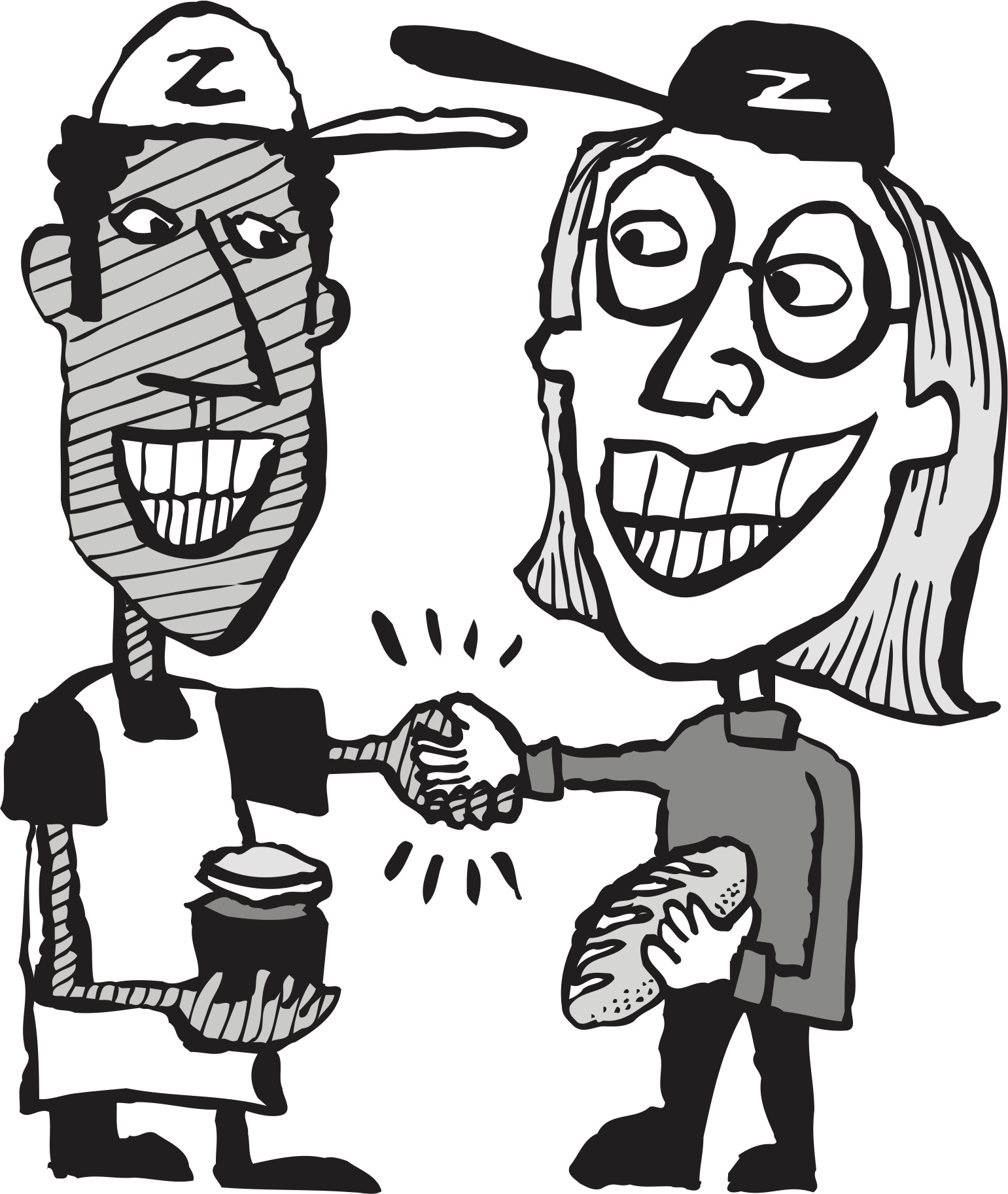 Make an effort to know how each of your staff members likes to be thanked. If you have a staff member that hates public recognition, don't throw her a party to celebrate her 15th work anniversary! Hand-written thank you notes are almost always appreciated. At Zingerman's, we end all of our meetings with 'appreciations' and we do them popcorn-style, meaning we speak up if we feel moved to appreciate someone. It is as easy as, 'I appreciate Elnian for her thoughtful training outline' or 'I appreciate Katy for her help with new staff orientation.' This almost always ends the meeting on a high note and also systematizes a chance for you to appreciate those you work with – a win-win!
—
I encourage you to have fun practicing these six elements of being an effective Servant Leader and know that Servant Leadership is both a philosophy AND a practice – just like yoga!
If you would like to know more about Servant Leadership (and how to become a Servant Leader yourself!), you might find these resources helpful:
[WEBINAR]: The 6 Responsibilities of a Zingerman's Servant Leader
[ARTICLE]: Servant Leadership
[WORKSHOP]: LEADERSHIP: Exploring the 6 Key Responsibilities of an Effective Servant Leader
[SEMINAR]: Leading with Zing!